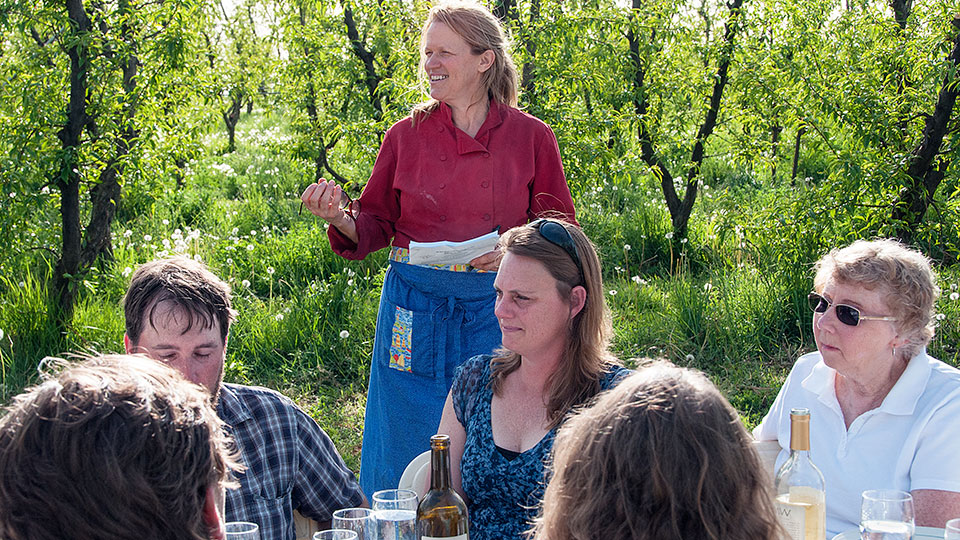 In 2008, Fresh & Wyld was created by chef Dava Parr and her band of Merry Women!
Tucked into a serene corner of Colorado's North Fork Valley, near charming little Paonia—and 10 million miles from city life—our lovingly restored 1908 Farmhouse Inn and 4 acre Estate is a great way to caress, de-stress, and decompress yourself while enjoying a rural lifestyle in total comfort. Innkeeper Dava Parr (a renowned Aspen chef) prepares cutting edge comfort food for breakfast and weekend dinners from fresh, local, organic meats and produce grown right on our own four acres or from one of the many farms in Colorado's most active natural farming region.
Local art and local food are available for purchase year round and local experts conduct workshops that teach candle making, spinning and weaving, soap making, raw food cuisine, soap making… and more! They also offer Gardening and Farm to Table Cooking classes.
You may never want to leave this little slice of heaven—and they're happy to have you hang out with them—but if you do decide to explore you'll find that yourself right in the middle of Colorado's most delightful rural community, with superb hiking and mountain biking, music most weekends, wine tasting, farm and vineyard tours, several annual festivals, and farmer's markets everywhere.
Make reservations (they limit the number of guests so everyone gets a lot of attention) and keep them in mind for weddings, reunions, and other events. Fresh and Wyld Farmhouse Inn & Gardens is Colorado's top destination for good food, deep rest, and country lifestyle according to Sunset Magazine—they're sure looking forward to taking care of you!
Dava and Fresh & Wyld was selected as one of USA Today's 10 Best Farm-to-Table Restaurants!
And in 2015 Farm Star Living selected Fresh & Wyld as one of the top 10 farms to love as a Valentines destination.