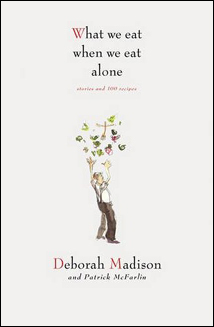 What We Eat When We Eat Alone: Stories and 100 Recipes
by Deborah Madison, Patrick McFarlin
Deborah Madison–cook, restaurateur, teacher and award-winning author of books that herald the garden, stress vegetarian cuisine, and promote eating locally—has taken a new twist with her writing. Madison and her husband, Patrick McFarlin, set out to learn what people chew on when there isn't anyone else around. The responses are surprising-and we aren't just talking take-out or leftovers. The result is a delightful, conversational journey about solo eating rituals–this is food-gone-wild in its most elemental form.
Betty Fussell, noted food writer, shares this in one of the chapters: "I eat alone all the time in this my seventy-ninth year, and I love to eat alone. Nobody to please but myself. I open the door of the fridge and look inside. It's always exciting, so many little things forgotten at the back of the shelves. What can I put together for this improvised, unrepeatable, once-in-a-lifetime meal?"
The book is playfully illustrated with the delightful art of Patrick McFarlin, and each chapter ends with recipes for those who dine alone. And Madison's upbeat message is–Treat yourself right. Eat what you like. And go ahead, improvise!