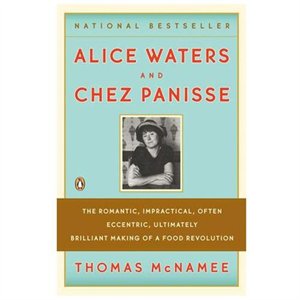 Alice Waters and Chez Panisse
"The Romantic, Impractical, often Eccentric, Ultimately Brilliant Making of a Food Revolution"
by Thomas McNamee
Today, Alice Waters may be the most important figure in the culinary history of North America. Chez Panisse, her Berkeley, California restaurant, opened in 1971, revolutionized what it means to eat out and gave birth to a new nationwide cuisine-the first in this country not associated with a single region or ethnic group, the first "American" cuisine. The New York Times has called Alice "the mother of American cooking." Without an ounce of business sense or financial discipline, Alice, with a small group of devoted friends and followers who developed around her, developed her strong principles of using only locally grown and organic ingredients at the peak of their seasons, to keep her restaurant afloat. This launched an entirely new food culture–committed to using seasonal, organic products from local sources. Today a finely tuned organization, Chez Panisse has come to embody a cuisine that is as politically conscious as it is pleasurable. Together, Alice Waters and Chez Panisse have revolutionized how we think about food, how its grown, how we cook, and how we eat.