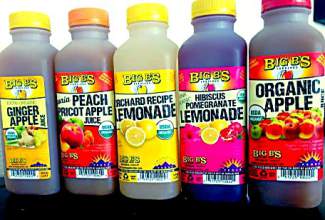 Fruit juices have a whole new look these days thanks to Big B's, a family-owned company based in Hotchkiss, Colo.
"We add cherries, pears, ginger, apricots, spearmint or cinnamon to different blends of apples, so there's a variety of flavors," said owner Jeff Schwartz.
Along with his sibling, Seth, Schwartz is a partner in Two Brothers Organics, Inc. of Hotchkiss as well as Delicious Orchards in Paonia. All of the produce they use is organic, with no chemical-based pesticides used on their crops.
Preservatives aren't added, either. According to the Schwartz' website, their juices remain shelf stable because all are "thermally pasteurized and immediately hot-filled into bottles. A special foil seal is used as a cap to prevent any air from entering. This minimizes the microbes that typically spoil juices."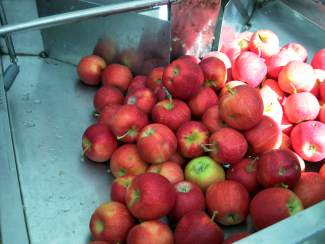 Apples are a tricky crop to grow organically, however.
"The coddling worm is difficult to beat back. It's persistent and takes a lot of organic spray," he said. The last 15 years have proven very challenging. "There's been a tremendous loss of apple acreage because it's gone to peaches and grapes."
Big B's was founded by Bernie Heideman, who concocted many of the original flavors. Schwartz started working for the company in 2000.
"Seth and I grew up in New Jersey," he said. "I went to CU in Boulder as an undergraduate in 1991 and never left Colorado."
He started interning on different farms in 1993 and knew he had found the right path.
By 1999, Schwartz had settled in Paonia. Along with his wife, Tracey, and Seth, he bought Big B's three years later. The orchards were added in 2006 and the family now lives there, traveling to the cider mill in Hotchkiss.
Even the children, Dagan, 12, and Aiya, 9, are an integral part of the orchard and store, along with their cousins, Seth and wife Melissa's children Zachary, 7, and Chloe, 4.
"They are around all the time, greeting customers, giving tours, irrigating in the orchard and helping in the garden and café," Schwartz said. "But mostly they are jumping on their trampoline or swinging on the huge rope swings — where kids should be spending most of their time."
Currently they have more than 20 employees, including hard cider-maker Shawn Larson, who has created flavored lemonades and teas as well.
"Hard ciders are really taking off," Schwartz said. "Our standard apples are high in tannins and have a nice flavor once fermented."
Currently, they offer several brands. One of them, Harvest Apple, is made with a blend of organic cider apples and is semi-sweet with a bold taste. Award-winning Orchard Original has a crisp apple taste and a smooth, dry finish. And for cherry lovers, there is an apple and cherry mix called Cherry Daze.
The different blends of the ciders, juices and flavored lemonades will vary during the season depending on which apples are ready to harvest at the peak of taste. Types of apples used include Honeycrisp, Fuji, Gala, Braeburn, Golden Delicious, Red Delicious, Rome, Granny Smith, Jonathan, Jonagold, McIntosh, Pink Lady and Winesap.
Those apples used to come primarily from the Schwartz' own orchards as well as those of their neighbors. However, even though the family owns 20 acres and leases another 30, they've had to expand their supply base.
"We've outgrown the local apple supply and now buy out-of-state as well," he said.
All of the cherries, however, come from the North Fork Valley. Big B's primarily uses the sour, red pie-types, like the Mountain Montmorency.
"Last year we pressed five million pounds of juice-graded apples, the majority for our brand. We are the largest organic juice manufacturer in Colorado now, and probably in the whole southwest," Schwartz said.
Primarily due to word-of-mouth, over the years Big B's has been ramping up distribution. The juices can now be found at City Market, Whole Foods, Safeway, King Soopers and Vitamin Cottage in addition to convenience stores and independent grocers.
"We've earned the trust of our customers," Schwartz said, "from putting out a super quality product."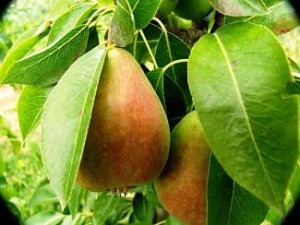 These days there are a lot of different facets to this company beyond the processing facility. Delicious Orchards includes "you-pick" fruits and vegetables, the café and a store with wine, including a tasting room, cheese, honey, jams, unique crafts and yarn.
Hours are 9 a.m. to 6 p.m., seven days a week. Now through the end of November, the orchard's campground is open as well, with large sites, a bathroom, dish sink and an view of Mount Lamborn. Big B's might as well stand for "big business" in the small town of Hotchkiss, and it's only getting bigger.
Delicious Orchards is located at 39126 Hwy 133 in Hotchkiss, one mile west of Paonia. Campsites are $10.00/night for tents and $20.00/night for tipis. You-pick costs are by the pound for apples, pears, peaches, cherries, tomatoes, nectarines, apricots, potatoes and basil. For more information, including which weekends they have cookouts and live music, go to the website or call (970) 527-1110.
Longtime Fence Post writer Carolyn White's first book, Unleashed, is now available online. Told by a dog named Darby, it is about how the love and guidance of a shelter pet helped its master overcome a painful experience, learn from it and thrive.