An Aspen restaurateur who sources most of his produce from western Colorado during the summer months has decided to take direct control of what winds up in his walk-in by investing in a small farm in the North Fork Valley.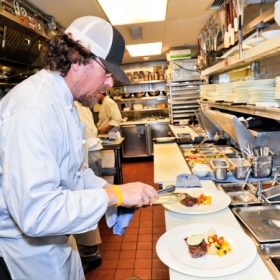 Chris Lanter, the co-owner and head chef at the longtime Aspen eatery Cache Cache, will partner with the local produce distributor Jack Reed to lease Dogpatch Farms, a two-acre plot on Lamborn Mesa in Paonia, about 90 miles south of Aspen.
"It's the ideal situation to have your own farm," Lanter said. "They'll be able to grow items specifically for us."
Lanter said he plans to commission salad greens, kale, and a variety of other specialty items for growing next season, although he and Reed have yet to draft a detailed plan for the upcoming crop.
"We could do greens, frisee lettuce, radishes, turnips," said Reed. "That kind of stuff only takes three or four weeks to grow, and could be ready by June."
The pair will lease the plot for a modest $3,500 per year, and in exchange for his up-front investment (around $1,000) Lanter will get shipments of choice produce at discount prices during the summer tourist season.
The model will be based on the Community Supported Agriculture (CSA) approach used by many farms to generate startup capital each spring. In exchange for a lump sum payment during the winter months when income is scarce, a CSA farmer provides customers with a weekly box of produce throughout the growing season.
The arrangement gives the farmer an infusion of cash to purchase tools, equipment and other necessities, and it ensures a steady supply of food for the customer all summer long.
"The true reason for a CSA is to get people to give you money when you really need it," said Reed, "and that's before you have any crops to sell, when you need to buy seed and other supplies."
By investing in a farm in the so-called "bread basket" of the Western Slope, Lanter is following in the footsteps of former Little Nell head chef Ryan Hardy, who partnered with other investors to purchase the 15-acre Rendezvous Farm in Crawford in 2007.
That farm has supplied The Little Nell and a long list of other Aspen restaurants since, although when Hardy moved from Aspen to New York to start another restaurant, Charlie Bird, his investment partner assumed all ownership of Rendezvous Farm and The Little Nell forfeited its stake.
Reed, who makes several trips from Paonia to Aspen in his box truck during the summer to distribute North Fork produce to Roaring Fork restaurants, will oversee the new Dogpatch Farm with the help of interns, which he is currently seeking.
Lanter said he plans to visit regularly, and will likely make bi-weekly trips with his sous-chef Nathan King to check up on the progress of each crop and plan his menus.
The Cache Cache kitchen staff may pitch in as well.
"We have one guy in the kitchen whose family has been in farming for generations," Lanter said. "We may be able to cross over and have some of our guys down there to do some planting and farming."
In the beginning, the farm will likely rely on low-tech climate protection strategies like row covers to keep crops safe from the late frosts of a Colorado spring. If the growing season goes well, though, Lanter would like to see season-extending greenhouses constructed to boost his restaurant's winter use of local produce.
"We rely some on local farms in the winter, but mostly on southern and central California," Lanter said. "To have your own greens year-round would just be so cool."
Lanter said he also plans to institute a new restaurant-wide pickling and preserving push when his kitchen closes for the fall off-season at the end of September. That will allow him to stretch tomatoes, cucumbers, and other artifacts of the summer bounty well into the wintertime, and give cold-season diners a taste of the summer that was.
"Hopefully as we accumulate some cash flow we can start putting up greenhouse after greenhouse," Reed said. "In Colorado, if you don't have half your farm in hoop houses, you can't grow for long."
By Nelson Harvey, Aspen Daily News Staff Writer
Photo: Chris Council/Aspen Daily News